Dell Seton Medical Center Honored as 3rd Most Socially Responsible Hospital by Lown Institute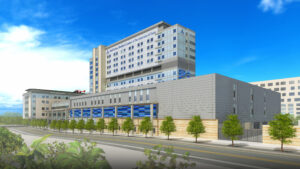 Dell Seton Medical Center at the University of Texas has been recognized as the 3rd most socially responsible hospital in the United States by the Lown Institute, a prestigious nonpartisan healthcare think tank.
The hospital's dedication to patient care, inclusivity, and community outreach earned it a spot on the Lown Index Honor Roll for 2023 – one of only 54 hospitals nationwide to achieve an "A" grade on equity, value of care and patient outcomes.
The Lown Institute's annual Hospitals Index for Social Responsibility ranks over 3,600 U.S. hospitals based on more than 50 metrics across categories of equity, value of care, and patient outcomes. Metrics include inclusivity, pay equity, community benefit, avoiding overuse, cost efficiency, clinical outcomes, patient satisfaction, and patient safety.
To learn more about these rankings visit: lownhospitalsindex.org/rankings
Published: July 21st, 2023