Dell Seton Clothing Closet Celebrates Reopening with a New Name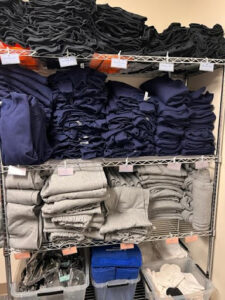 Since Dell Seton Medical Center at The University of Texas opened in 2017, clinical staff saw a basic human need to clothe patients who didn't have sufficient or suitable clothing. Patients may have arrived at Dell Seton with little clothing, soiled clothing, or clothing that had to be removed in an emergency. Staff would generously give patients clothes they'd personally donated. Due to the high demand for clothes, as well as Ascension's infection prevention policies, Dell Seton established the official Clothing Closet in November 2021.
The Clothing Closet addresses the immediate clothing needs of patients admitted to Dell Seton Medical Center, regardless of their socio-economic circumstances. The Closet features t-shirts, sweatpants, socks, shoes, and fleece blankets. All items are brand new, size appropriate, and free to the patient.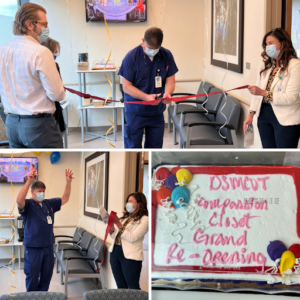 In September 2022, Ascension associates at Dell Seton decided to rename the clothing closet and hold a small reopening/ribbon-cutting ceremony to celebrate how the clothing closet and our staff are committed to delivering compassionate, personalized care to all, with special attention to persons living in poverty and those most vulnerable.
Marissa McKinnies, Manager of Consumer Experience & Service Recovery for Ascension Texas, who organized the event, said: "The clothing closet has made such a tremendous difference in the lives of those receiving them. It is more than a 'clothing' closet but more like a 'compassion closet.'"
Now known as the Compassion Closet, it continues to be utilized daily. Thanks to grant funding from the DEW Foundation, and the Sister Gertrude Levy Endowment, Lauren – the Compassion Closet Coordinator – ensured the closet was fully stocked at the end of 2022. During the winter months, there is a higher demand for additional items and warmer layers of clothing.
Dell Seton is the only adult Level 1 Trauma Center in Central Texas. As the Travis County safety net hospital, it serves some of our most vulnerable community members with the greatest needs and least resources. Nearly 70% of patients at Dell Seton are un- or under-insured.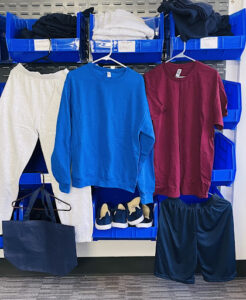 A similar patient clothing closet was established at Ascension Seton Shoal Creek (ASSC) in February 2019. Over 50% of patients who come to ASSC for psychiatric treatment are referred by Dell Seton Medical Center, and almost 90% are referred by Ascension Seton facilities. ASSC staff recognized many patients were brought to the hospital with clothes in poor condition or without clothes entirely, and that temporary scrubs were not conducive to healing in a behavioral health setting. The ASSC Clothing Closet enhances patient dignity by ensuring patients have clean and comfortable clothing during treatment and for their transition back into the community.
Philanthropy is core to our missional focus to serve the poor and vulnerable. We are thankful for grant funding from the RAM Foundation, along with funds from the Sister Gertrude Levy Endowment to support the ASSC Clothing Closet. Ascension Associates also provide their support through "We Give to Give" – our Employee giving program.
Knowing how valuable the Compassion Closets are at Dell Seton and ASSC, Ascension Seton Medical Center Austin (ASMCA) plans to establish its own closet in 2023. The Seton Fund is committed to help raise funds to stock the closet with clothing items for all patients in need – including infant clothing for any one of our 5,000+ babies born at ASMCA each year. In addition, the ASMCA Compassion Closet will feature baby supplies to help parents care for their newborn. Diapers, wipes, baby formula, car seats, and cribs are just a few essential items that are requested by birthing patients each day. With over 50% of patients un- or under-insured at ASMCA, we know a Compassion Closet will be much needed and well used.
Published: February 17th, 2023