Ascension Seton Announces $280 Million Expansion of Dell Seton Medical Center
Expansion to add 150 beds and more than 160,000 square feet, clinical and outpatient space and additional ICU space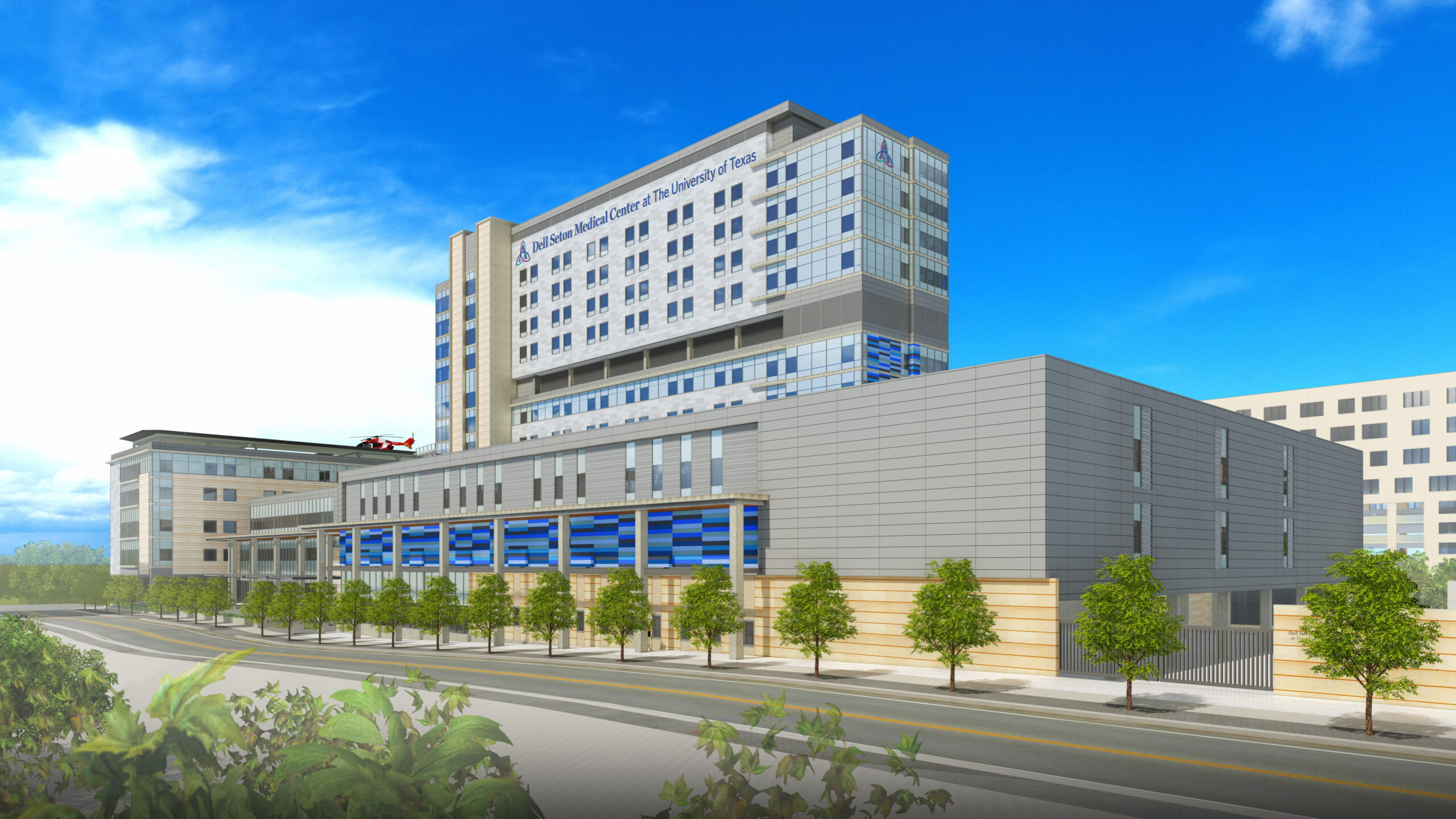 Ascension Seton announced today the $280 million expansion of Dell Seton Medical Center at the University of Texas to provide additional healthcare services to address the needs of the increasing population of Central Texas. The region's only Level I Trauma Center will be adding 150 beds and more than 160,000 square feet that includes surgical, clinical and outpatient space; a Neurosciences Center of Excellence; additional ICU space and more.
"We are proud of this expansion of Dell Seton Medical Center as Ascension Seton builds on our world-class teaching facility, Level I Trauma and burn center and prestigious Magnet® designation awarded by the American Nurses Credentialing Center," said Andy Davis, President & CEO of Ascension Texas. "We look forward to providing even more capabilities and infrastructure to expand access to high-quality, individualized care for all in Central Texas."
The expansion includes the addition of a third-level floor on the building facing Red River Street, and the addition of four new stories built atop the existing patient tower at 1500 Red River St., and will include:
Six new operating rooms with pre-op and PACU space
Inpatient rehabilitation gym
On-call suites
ICU expansion
Clinical and outpatient space
Neurology, wound and burn care, oncology and abdominal transplant facilities
Complex digestive health capabilities
Plans for the additions to the facility included guidance from a number of Dell Seton Medical Center doctors, who gave valuable input on clinical, emergency care and inpatient/outpatient needs.
"We are grateful for the investment being made by Ascension Seton and what it means for the people of Central Texas seeking healthcare, as well as advancing our joint commitment to the teaching hospital," said Claudia Lucchinetti, Dean of Dell Medical School and Senior Vice President of Medical Affairs at The University of Texas at Austin.
In 2017 Ascension Seton invested $310 million to build a state-of-the-art facility, Dell Seton Medical Center at UT which serves a vital role in the region as the only adult Level I Trauma center (serving an 11-county area) and teaching hospital in Central Texas. Ascension Seton's collaboration with Dell Med and UT Health Austin, the medical school's clinical physician practice, provides a powerful platform to incubate innovation, advance clinical care and attract nationally-renowned physicians as well as cultivate new ones. Because of the collaboration with Dell Med, Ascension Seton is able to provide the highest and most complex care within the network at the academic center.
Dell Seton Medical Center accomplishments since opening in 2017:
Dell Seton Medical Center at The University of Texas achieved the prestigious Magnet® designation awarded by the American Nurses Credentialing Center Magnet Recognition Program in August 2021.
Ascension Seton opened the new Adult Abdominal Transplant Center at Dell Seton Medical Center, a clinical alliance with UT Health Austin, performing its first living donor kidney transplant in February of 2022. The center has since performed 9 donor surgeries and 11 recipient surgeries. They are also piloting the new National Donate Life Living Donor Registry in Texas.
Dell Seton Medical Center and Ascension Seton Medical Center Austin are the only comprehensive stroke centers in Austin. Since its opening, Dell Seton Medical Center has seen 3,143 stroke patients.
This summer, Dell Seton Medical Center will open a Neuro ICU which will be the only facility in Central Texas with a fully dedicated unit and beds for neurocritical care.
Dell Seton Medical Center at The University of Texas was also one of the leading regional COVID-19 response and treatment facilities treating some of the most critical patients in the earliest days of the pandemic. (see: https://dellmedrethink.com/article/on-the-covid-front-lines)
The burn program at Dell Seton grew from serving only patients with burns less than 30% Total Body Surface Area (TBSA) to serving patients with 100% TBSA burns. Burn-specific occupational therapy and outpatient services were also expanded.
The number of medical residents and fellows in Travis County affiliated with Ascension Seton and Dell Med has risen by 55% since 2015, translating to 401 new doctors providing specialty care for Central Texas patients, including for tens of thousands of un- and underinsured patients each year in collaboration with community partners.
The increase is tied to expanding the number of jointly established Graduate Medical Education (GME) training programs – up from 15 in 2015 to 47 today. New programs include identified areas of local need such as ophthalmology, neurology, gastroenterology and addiction psychiatry.
The Digestive Health program has been expanded to include advanced endoscopy, hepatology, IBD, colorectal, foregut and surgical oncology services.
An Advanced Orthopedic Trauma surgical program was established with orthopedic oncology specialty services
Specialized urology services have been expanded to include urologic oncology
Expanding access to care for the poor and vulnerable
Dell Seton Medical Center is the Travis County safety net hospital serving our community members with the greatest needs and least resources. Since opening in May 2017, the Dell Seton Medical Center at The University of Texas has completed 615,537 patient encounters, performed 61,304 surgeries and had 454,362 emergency room visits. Between 40-45% of patients at Dell Seton are un- or under-insured. The expansion of Dell Seton Medical Center reflects a continuation of Ascension Seton's 120-year commitment to serving the Travis County community with special attention to the poor and vulnerable population.
Published: April 10th, 2023